Forum Gallery in New York.
http://www.forumgallery.com
Artists in the Collection from this Gallery include:
STEVEN ASSAEL
http://www.stevenassael.com
"Robert and Naomi"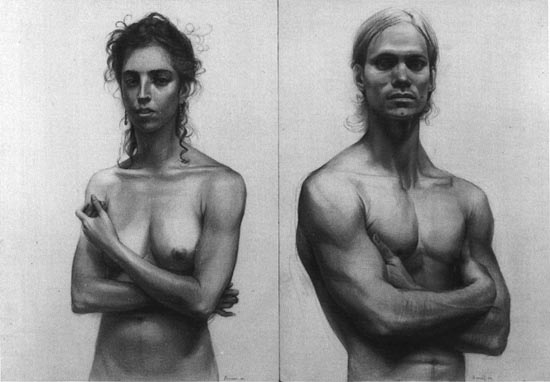 Steven Assael was born in New York, New York in 1957. He attended Pratt Institute and presently teaches at The School of Visual Arts in New York. Mr. Assael balances naturalism with a romanticism that permeates the figures and surroundings of his paintings and drawings. The focus of his work is the human figure, either individually or in a group, rendered in glowing relief by gentle beams of warm and cool light. Steven Assael's classical talents are as rare as they are essential to the diverse art world of the late Twentieth Century.
Assael has had several solo shows nationally in recent months, including the Columbus Museum of Art, Cress Gallery of Art at the University of Tennessee, Lowe Gallery in Atlanta, and Forum Gallery in Los Angeles. In 1999, a retrospective one-person exhibition was held at the Frye Art Museum in Seattle, Washington. Steven Assael's work has also been exhibited at The Arkansas Arts Center, (AR), The New York Academy of Art, (NY), The Arnot Art Museum in (NY) and is represented in the public collections of The Hunter Museum of Art in Chattanooga, (TN), The Kemper Museum of Contemporary Art & Design (MO), The Columbus Museum of Art (Columbus, OH) and the Metropolitan Museum of Art (NY).
KENT BELLOWS
"Study for At the Club"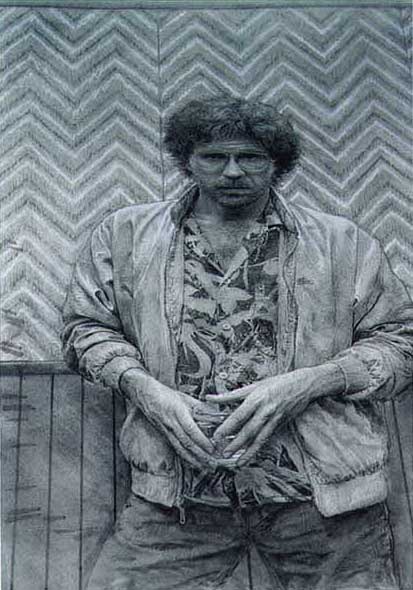 Kent Bellows was born on June 26, 1949 in Blair, Nebraska. After attending the University of Nebraska, he applied his extraordinary gift as an artist and draftsman to a career, first as an illustrator and then as a fine artist. He first exhibited his work locally, at the Market in Omaha in 1971. Supported by sales of his work and grants from the Warren Buffet Projects Foundation , the Mid-America Arts Alliance and the Bemis Center for Contemporary Art, Kent Bellows continued to exhibit his exceptional, highly-detailed and perceptive figurative paintings and drawings, and was soon noticed by some of the most discerning American collectors. The Tatistcheff Gallery was the first New York gallery to exhibit Kent Bellows work and placed his work in many fine collections.
Kent Bellows joined Forum Gallery in 1994, and the succeeding years have seen his works exhibited in seven exhibitions at Forum in New York and Los Angeles and at The Arkansas Art Center in Little Rock, the Frye Art Museum in Seattle, the Art Institute of Chicago and the Neuberger Museum of Art in Purchase, New York. Kent Bellows works are now included in the permanent collections of the Metropolitan Museum of Art (New York), The Art Institute of Chicago, the Toledo Museum of Art, The Arkansas Art Center and the New Britain Museum of American Art (Connecticut).
Kent Bellows had an extraordinary gift for the communication of character and personality of his subjects. He approached his work with selfless dedication, consummate grace and good humor. A positive presence in the art world, he was generous to younger artists and to his friends and family members. His passion for his work, his nearly obsessive attention to detail, his storytelling and his improvisational jazz piano playing will be greatly missed. His family has asked that those interested contribute in Kent Bellows' memory to the Bemis Center for Contemporary Arts, 724 South 12th Street, Omaha, NE 68102, www.bemiscenter.org.
FREDERICK BROSEN
"1841 A.D."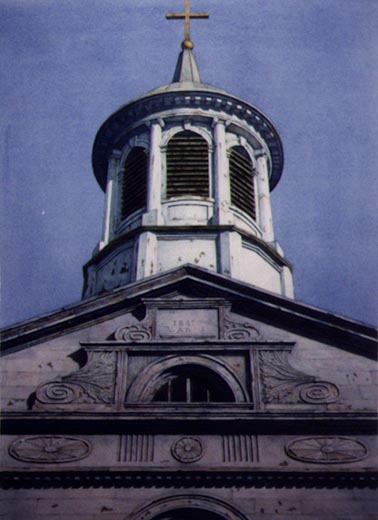 A native New Yorker, Frederick Brosen began his studies at City College of New York, graduating in 1976. He studied art at the Art Students League and at Pratt Institute, receiving his MFA from Pratt in 1979.
Frederick Brosen's recognition began in 1982, when his work was represented in the annual Art on Paper exhibition at the Weatherspoon Art Gallery in Greensboro, North Carolina; and in an exhibition of Architectural Images at the Summit Art Center in New Jersey. In 1983, Frederick Brosen had his first one-person exhibition in New York, at Staempfli Gallery. Watercolors by Brosen were included in the 1983 New Talent Show at the Brooklyn Museum and in The Art of Drawing III at the Arkansas Art Center in 1984. Since then, Frederick Brosen has been invited to exhibit at The Bruce Museum (Greenwich, CT), The National Academy of Design (NY), the American Academy of Arts and Letters (NY), the Museum of the City of New York, and the Everhart Museum (Scranton, PA) and has been Artist in Residence at Dartmouth College in New Hampshire.
Robert Cottingham
"Rialto"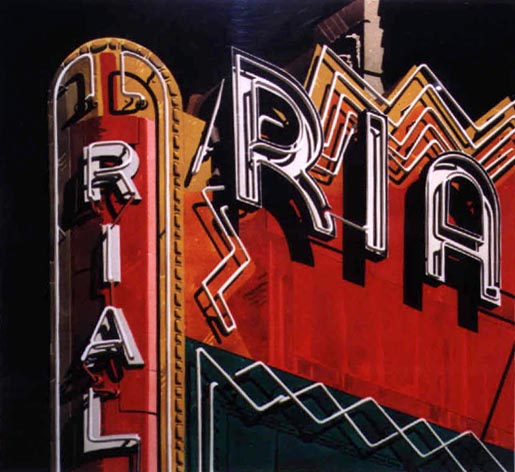 Robert Cottingham is a highly regarded American Pop-artist and a first generation photo realist. He established himself in the early 1970's among such renowned artists as Richard Estes and Chuck Close. Born in Brooklyn in 1935, he studied at the Pratt Institute, began a brief career in Graphic Design which later inspired him with his painting of American urban signage. Highlights of Robert Cottingham's international public collections include The Art Council of Great Britain in London, The Art Institute of Chicago in IL, The Baltimore Museum of Art in MD, The Birmingham Museum of Art in AL, The Carnegie Institute in Pittsburgh, PA, The Cincinnati Art Museum and the Cleveland Museum of Art in OH, The Delaware Art Museum, The Solomon R. Guggenheim Museum of Art in New York, NY, The High Museum of Art in Atlanta, GA, The Hirshhorn Museum and Sculpture Garden in Washington, DC, The Hunter Museum of Art in Chattanooga, TN, the La Jolla Museum of Contemporary Art in CA, The Metropolitan Museum of Art and The Museum of Modern Art in New York, NY, The Tampa Museum of Art in FL, The Tate Gallery in London, The Virginia Museum of Fine Arts, and Yale University Art Gallery in New Haven, CT.
Martha Mayer Erlebacher
"Charity"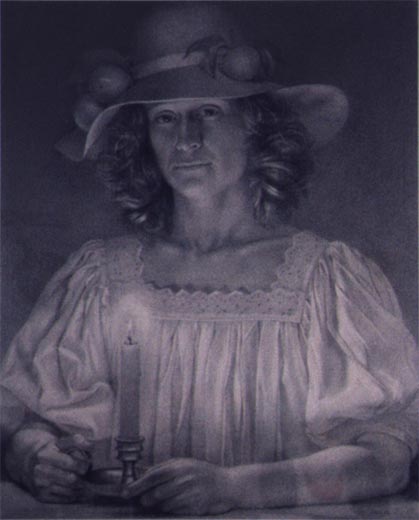 "Still Life with Dish of Eggs"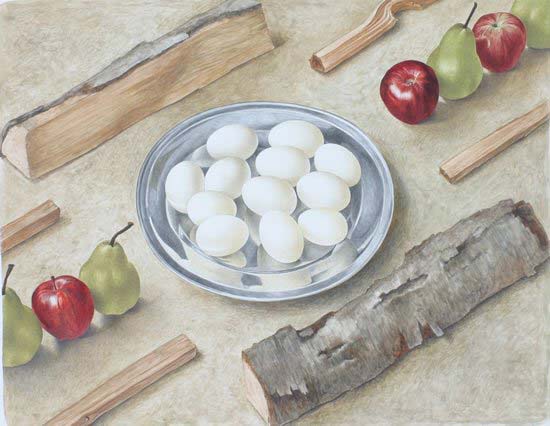 Ultra-realistic still-life and figure painter Martha Mayer Erlebacher was born in 1937 and became Chair of the Faculty at the New York Academy of Art in Manhattan. Since the 1970s, she has painted fruit, eggs, pots, vases and a variety of other objects in a realistic style and also paints Renaissance-like figures, primarily portraits and the female nude. Her oil paintings feature warm colors and her drawings subtle changes of value.
In 1998, Martha Mayer Erlebacher explored her feelings and purposes in her art:
"With feelings of preposterousness, humility and self-consciousness, I'm putting some of my more recent thoughts about the making and function of art on paper. I try to make art, which reaffirms to the viewer that there is value in human life. It should give the sense that one is not alone, and that one is part of a group with similar needs, longings, hopes, dreams, fears and desires which transcend time (the subjects of art). I try to represent to the viewer situations, which can shed light on his (her) own life. It should do this with representations of the human form and the environment that are compellingly rendered as three-dimensional entities in which forms can move in space convincingly (the means of representation). It should speak about human life metaphorically rather than literally (the metaphor). It should do all of the above in an organizational context, which reaffirms the continuity of existence from generation to generation the means of organization a tall order.
First, the subjects of my work.
"Like myth, I feel, that the supreme function of art is to restate and re-present the paradigmatic models for significant human activities. These can include revelations of the sacred, death, sexuality, birth, myths of origins, etc., and all human activities including eating, work, education, recreation, etc. These activities will occur in a mythic time, which is cyclical rather than linear because it assumes the universality and repetition of human experience. The use of ritual nudity also implies an a-temporal model. By thinking of these activities as paradigmatic, the first step is taken to create representations, which transcend illustration and genre.
Second, the means of representation.
"My interest is in a structurally viable representation of the human form, anatomically based, convincingly three-dimensional which is the kind which I feel most powerfully elicits psychological responses on the part of the viewer. This activity in the past has been called drawing. It is the process by which the artist sees something, translates what he sees into a perception and then recreates the image within the formal modalities of his own perception. It is called the 'form sense' of the artist. By simply doing this very activity, he automatically 'recreates' the world. It is the world rendered with that particular artist's form sense. Unique interpretations of the world are, in my view, the starting point for art. If indeed an artist only renders the visual world and imposes on it a unique sensibility, which can be enough. It is deeply reassuring to the reality of one's own existence to see a parallel world. The modes of illumination used to render the figure aside from structural accuracy (which range from the extreme of a silhouette based image to an open form integrated in the background) are determined by the meaning and context of the painting. What the figure groups with, is critical to the meaning, whether it be the sky, the ground, other figures, etc. To what degree does it segregate or integrate with the environment?
Third, the metaphor.
"I claim that without metaphor there can be no inner world, no life of thought, no art. In the words of Hannah Arendt, 'Thought.... stands in need of metaphors in order to bridge the gap between a world given to sense experience and a realm where no such immediate apprehension of evidence can ever exist'. The 'arc of metaphor' spans the abyss separating the outer world of sense from the inner world of thought, appearance from reality. Without metaphor there would have been no bridge whereby to cross from the minor truth of the seen to the major truth of the unseen. Metaphor captures one reality within another to give insight and greater understanding. The images can include metaphors of landscape (The River, Adam II, Rage, Rage, The End and the Beginning, The Creation of Eve, Agon, Woman Planting after Rain), or metaphors of form (Woman Gazing Up, Woman In Chair, Sisters) or both. I strive to design the 'look', or organization, of the picture so that the visual appearance of the picture points to the metaphoric meaning as well as the literal subject.
Fourth, the means of organization.
"By this I mean the organizational devices we use to construct the picture. Rooted in and derived from the physiognomy of the body are certain fundamentals of organization related to symmetry/asymmetry, vertical/horizontal/diagonal. Rooted in and derived from the human experience of everyday life are other fundamentals of organization based on gravity and weight, the diurnal alteration of light and dark, above and below, sky/earth/water, male/female, sun/moon, rivers, mountains/valleys, deserts, stones, grass, wind, etc. I also use geometrical analyses for placement of the components of the picture.
Using these tools in conjunction with my knowledge of perceptual organization, I try to create images that reaffirm the value and nobility of human life in the natural world.
ALAN FELTUS
http://www.feltusfeltus.com/alanfeltus/index.html
"Lina"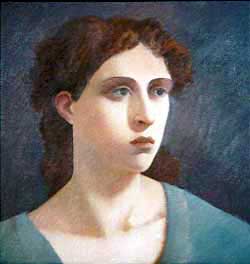 An American artist working in Italy for the last fifteen years, Alan Feltus is inspired by classical antiquity but re-creates his own unique neo-classical style. As a result, old masters assume a pivotal role in his work as both inspiration and muse, replacing traditional life models. Alan Feltus studies these artists' masterworks, blending their observations of the past with his own ideas on contemporary relationships.
Depicting relationships is at the heart of Alan Feltus' imagery. Whether portraying husbands and wives, siblings, lovers, or friends, he communicates feelings of sadness, dismay and loneliness by isolating figures and casting them in his enigmatic dramas. Seeking to express the inexpressible, he uses body language as a tool. As is true in early Italian Renaissance paintings, Feltus' figures rarely seem to direct their eyes towards the viewer. Women and men gaze longingly or suspiciously through dimmed or large, turned eyes, making them appear perplexed. He illustrates their hands so that they appear to be clutched or reaching out, though they never are successful at reaching another person. Bodies are postured awkwardly so that they appear aloof and frozen in a moment. All these elements help Alan Feltus render the complexities of emotion.
Born in Washington, DC in 1943, Mr. Feltus studied at the Tyler School of Fine Arts and later received a B.F.A. from Cooper Union in New York and an M.F.A. from Yale University. He has received many awards for his work, such as a Pollock-Krasner Foundation Grant in Painting, the Augustus Saint-Gaudens Award from Cooper Union, and the Raymond P. R. Neilson Prize from the National Academy of Design.
Alan Feltus has had one-person gallery exhibitions in New York, Los Angeles and Washington D.C., as well as Chicago, San Francisco, New Orleans and Rome. His work has been included in exhibitions at the American Academy in Rome (New York and Rome), The Joseph H. Hirshhorn Museum and Sculpture Garden (Washington, D.C.), The National Academy Museum (New York), and the National Museum of American Art in Washington, D.C.
He has also been commissioned by the American Medical Association in Washington, D.C., and The Montana Building in New York. In 2001, he received the Raymond P.R. Neilson Prize given by the National Academy of Design in New York. He is also included in several important public collections such as The Arkansas Art Center in Little Rock, AR, The Bayly Museum in Atlanta, GA, The Corcoran Gallery of Art and The Hirshhorn Museum and Sculpture Garden in Washington, D.C., The National Academy of Art in New York, NY, The Oklahoma City Art Museum and the Wichita Art Museum in KS.
MICHELE FENNIAK
"Woman with Gloves"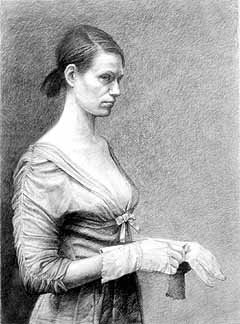 Michèle Fenniak's enigmatic paintings of people in undefined, mysterious settings speak to the ambiguity of personal experience and the tenuousness of social order. The stories, or narratives, in this ambitious artist's work are frequently indefinite and always obliquely expressed.
Canadian by birth, Fenniak attended Queen's University in Kingston, Ontario, where she afterwards taught drawing, as she did at Brooklyn's Pratt Institute and the Fashion Institute of Technology in New York City, her present residence. Her work was included in the formidable works on paper exhibition at the Frye Museum of Art in Seattle titled A Decade of American Contemporary Figurative Drawing and is in collections at Arkansas Arts Center, and Cornell Fine Arts Museum in Florida. She has earned her MFA from Yale University and is a recent recipient of the Pollock-Krasner grant.
DAVID LEVINE
"Senator Clinton"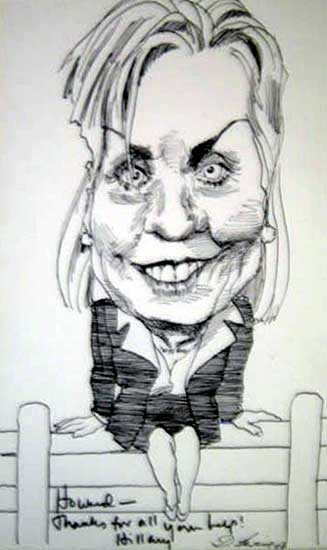 "President Clinton Talking to His Audience"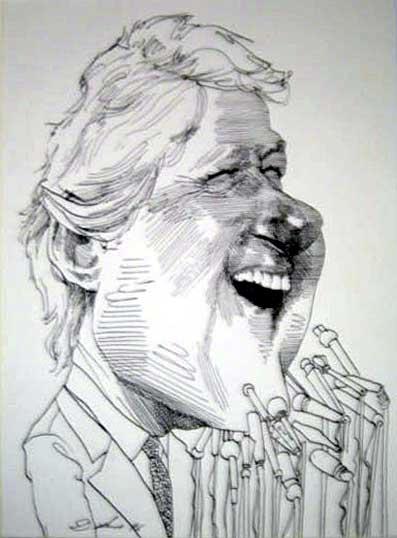 David Levine was born in Brooklyn, New York in 1926 and studied at the Brooklyn Museum of Art School, Pratt Institute, the Tyler School of Art at Temple University in Philadelphia and the Eighth Street School of New York with Hans Hoffman. One of America's most celebrated artists, David Levine's many awards began with the Louis Comfort Tiffany Foundation Award in 1955 and have included the Isaac Maynard, Julius Hallgarten and Thomas B. Clarke awards, all from the National Academy of Design; the George Polk Memorial Award, a Guggenheim Fellowship, the Childe Hassam Purchase Prize (American Academy of Arts and Letters), the John Pike Memorial Prize and the Gold Medal of the American Academy and Institute of Arts and Letters in 1993. Internationally, David Levine has received the French Legion of Honor award and the Thomas Nast Award in Landau, Germany.
David Levine exhibited with the Davis Gallery in New York from 1954 to 1963, when he joined Forum Gallery. In addition to the fifteen one-person exhibitions he has had at Forum since then, David Levine has had exhibitions in Paris, Stuttgart, Washington, Munich, Oxford (England), Beverly Hills and Columbus, Georgia.
David Levine is represented in the collections of the Hirshhorn Museum and Sculpture Garden, the Cleveland Museum of Art, the Brooklyn Museum, The Newark Museum, the Library of Congress and the National Portrait Gallery, the San Francisco Fine Arts Museums, the National Portrait Gallery of England and the Metropolitan Museum of Art.
Six books have been published of David Levine's art, including The Arts of David Levine (Knopf, New York, 1978) and Pens and Needles (Gambit, Boston, 1969). David Levine lives and works in Brooklyn, New York.
MARIA TOMASULA
"Rhythm"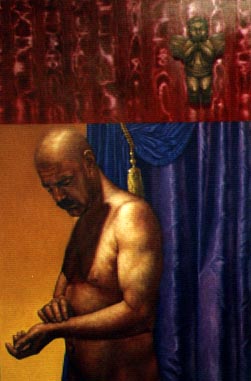 Born and raised in Chicago, Maria Tomasula is an active part of the Chicago art scene. Maria Tomasula received a Bachelor of Fine Arts degree from the University of Illinois at Chicago, and then continued her education at Northwestern University, where she earned a Masters degree in Fine Arts. She is currently an Assistant Professor at the University of Notre Dame and also is a Lecturer at Northwestern University.
Her recent solo exhibitions were at Forum Gallery New York and Los Angeles, the Indianapolis Museum of Art, Indianapolis, IN and at the Mexican Fine Arts Museum, Chicago, IL. Her work was also included in "Larger than Life: Women Artists Making it Big" at Susquehanna Art Museum in Harrisburg, PA (2003), "Recent Acquisitions" at Mexican Fine Arts Museum in Chicago (2002), "Obsessive Drawing" at Delaware Center for Contemporary Arts (2001), and "Timely and Timeless" at the Aldrich Museum in Connecticut (1994). She will be in the group exhibition later this year, "Transitional Objects: Contemporary Still Life" at the Neuburger Museum of Art, Purchase College, New York.
With striking color and theatrical compositions, Tomasula's artwork is influenced by the votive painting of Mexico, as well as the contemporary writers of Latin America. As an artist she seeks to create very unique, but realistic depictions of still-lifes. Using what seem to be simple objects such as fruit, butterflies and flowers, she brings them together to create metaphorical, poetic and ambiguous work. She showcases flowers and fruits by using shallow space and often will paint a curtain or spotlight to draw attention to her images. The inanimate objects then take on evocative, sensual characteristics.
Each canvas is unique and intriguing as Maria brings her own sensibility to contemporary art of the 21st Century.
BILL VUKSANOVICH
"Business Clown"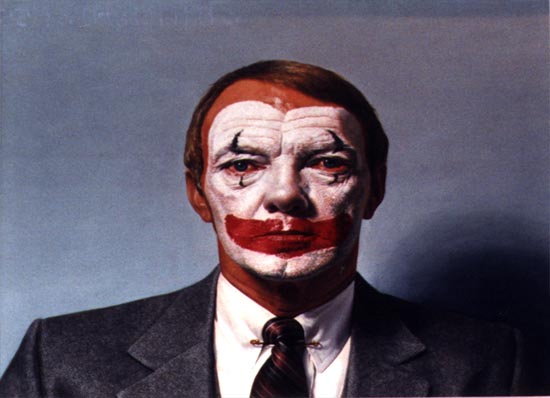 "Two Girls in Swimming Pool"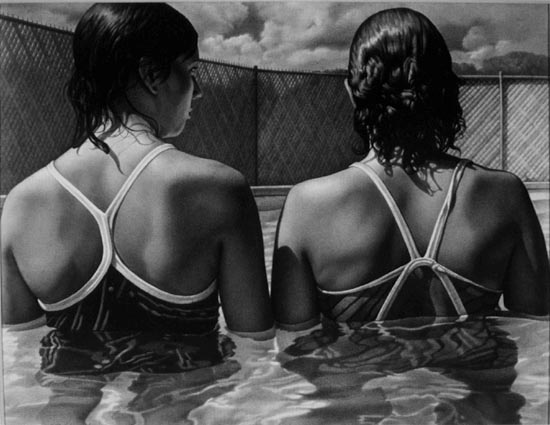 "Untitled(Older Woman)"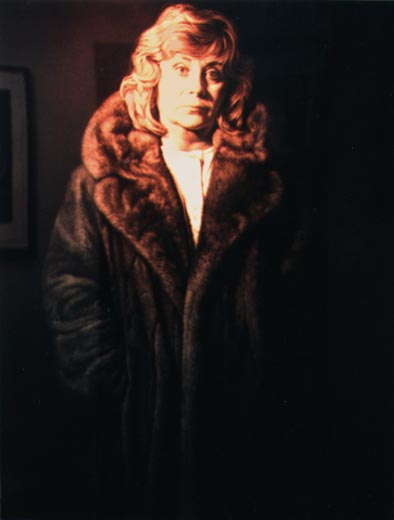 "Father and Daughter"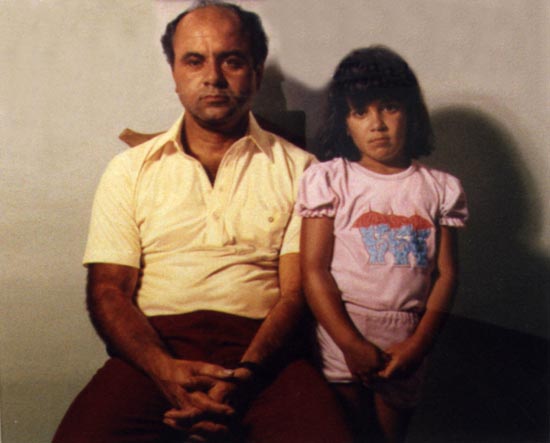 "Girl with Pet"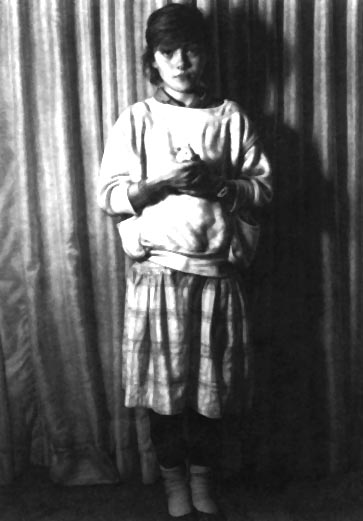 Bill Vuksanovich was born in Belgrade, Yugoslavia in 1938 and came to Chicago in 1952, where he resides today. He attended the American Academy of Art and the School of Professional Art, both in Chicago.
His main body of work includes larger-than-life size photo-realistically rendered drawings. He portrays his figures in the frontal position, so that the image and viewer become involved in a confrontation with one another. This offers an emotionally and psychologically loaded presentation that never fails, to engage.
In 1992, a distinguished committee of leading art professionals awarded Vuksanovich a Pollack-Krasner Foundation Grant. And in 2001 he participated in the Identities: Contemporary Portraiture exhibition at the New Jersey Center for Visual Arts, Summit, NJ.
His work is part of the collections of:
AT & T, Amerada Hess Corporation, New York, NY, Arkansas Art Center, Little Rock, AR, Art Institute of Chicago, Chicago, IL, Certified Collateral Corporation, Chemical Bank, New York, NY, Eager Enterprises Inc., Chicago, IL, Kemper Group, Long Grove, IL, MBNA America Bank, N.A. Newark, DE, McDonald's Corporation, Oak Brook, IL, Museum of Fine Arts, Springfield, MA, Northwestern University School of Law, Evanston, IL, Stephens, Inc. Little Rock, AR, Stroud & Waller, Glencoe, IL.