61 works from the Tullman Collection will be displayed at the Mobile Museum of Art from October, 2006 through January 2007 in an Exhbition entitled:
Contemporary Imagings: The Howard A. and Judith Tullman Collection
. The list of works and artists featured appears below. We are grateful to the Museum, its Director, Paul Richelson, and to Susan Gescheidle for helping to create this opportunity for the artists' work to been seen in such a wonderful venue.
Article from Mobile Museum Quarterly
Collectors' Statement about the ExhibitionThe Tullman Collection
There's a sign in the hallway outside of our loft where much of our Collection hangs which tries, inartfully, to describe the types of art that we collect. The sign reads in part:
We collect art that seizes your attention and imagination. Art that you cannot look away from or beyond. Art that contains a demonstrable strength and power. Art which effectively tells a story and, at the same time, always has more to reveal.
Of course, no sooner does a visitor enter the loft than he or she realizes what an impossible task it is to even attempt to encapsulate 30 years of collecting and almost a thousand pieces of art into a series of pithy statements on the wall. Ultimately, the art and the Collection speak for themselves and that is precisely as it should be. But then, if we left it at that, Paul would be very unhappy with the length of our introduction.
The fact is that we do believe there is a striking and persistent set of characteristics which virtually all of the works in the Collection embody and which we hope that the exhibition assembled here makes apparent. Try to escape being caught looking at Uma Thurman in Terry Rodger's "The Vortex" or to avoid the penetrating stare of the little nymph in Nola Romano's "The Competition: Part Two: To The Finish." Great execution, compelling narratives, explosive line and color, and arresting images are some of our most basic selection criteria. We tried to rely on these as well in helping to select the works for the exhibition.
It's never easy to select only a small fraction of a collection to represent all of its different components, but we are pleased to say that the paintings and drawings which have been selected by the Museum do an excellent job of helping us tell our story and share our passions. Interestingly, this selection and editing process is almost exactly the same as the one a collector goes through in viewing a new show and trying to select the very best example(s) of a new artist's work. It's obviously even tougher when you're choosing between pieces from a collection where you've already decided that you love almost all of the work – otherwise, you wouldn't have bought the works in the first place. At the same time, it's a little like being asked which of your children you prefer. And, before you ask, we don't have a single favorite piece in the show or in the Collection and we love all of our daughters and granddaughters equally.
The fact is that, over the many years, we have simply tried to buy work that excited and moved us. In some ways, this process has become easier as we've grown more certain of our interests and ability and in others harder as the art market and the availability of more and more work across the world has continued to explode. But some things never change. As they say in the music business, it's easy to tell when something's bad and very, very hard to tell when something's really good.
While my wife is an artist and has a background in art history, I have no such distinction. I have been an entrepreneur for several decades and like to think that my "art" has been the creation of many distinct businesses over the years along with good jobs and opportunities for thousands of individual employees who have helped me in the process.
Andy Warhol once said that "being good in business is the most fascinating kind of art" and I believe that there really are some interesting parallels between the solitary life and special "vision" of every dedicated artist and the lonely and somewhat scary life of the "boss" who balances the daily trials and tribulations of starting and growing a new business with the awesome responsibility of having hundreds of employees' lives and families depend every day (and every long night) on the success of the venture.
They aren't kidding when they say that "it's lonely at the top" although at least it isn't crowded. And it's clearly lonely and difficult for each and every artist to find his or her voice and then to struggle as well to find a receptive and growing audience for the work. There's no question in my mind that this shared sense of asocial isolation is one of the reasons that the Collection contains a substantial number of "difficult" works that might very well not find a home elsewhere. Certainly, Caleb Weintraub's "Party Favors" comes to mind in this regard as does the disturbing piece by Chris Scarborough entitled: "The devil was great, I swallowed burning cigarettes and ate ashes."
We have tried through our collecting to actively and directly support and encourage hundreds of artists over the many years, but – make no mistake – we have had the better end of the bargain in many more ways that we can even count. For me personally, the entire process – the research and reading; the constant searching for new work and ideas; the exhilaration of finding and acquiring a special piece; even the give and take of the negotiations and the sheer excitement of being a small part of the constantly changing and expanding art world - has been one of the most important escapes and enthusiasms of my life. Someone once said that "art is the only way to run away without leaving home" and, I can honestly say, that – for me – the Collection and collecting have provided a refuge and a relief from so many of the day-to-day issues and pressures of my everyday business life that I will be forever grateful.
If similarities in temperament and context explain part of the puzzle here of how someone with a legal and business background becomes so powerfully drawn into the collecting world, I think that there's an even more important distinction between business leaders and artists which forms another crucial part of understanding the nature of the emotional connection which we feel with the artists. In a very clear and important way, I have felt for the longest time that these artists are doing work that they uniquely can do and work at the same time which is critical and valuable for all of the rest of us. Their commitment and their effort must, of course, be respected, but there's something even more basic at work in these social and economic and interpersonal "transactions".
Here again, Andy Warhol has the last word. He said: "I used to think that art was about not compromising, but I finally realized that compromising is an art in itself." Management may be an art and not a science, but ultimately all business and all leadership is about accommodation and compromise. A leader of people, however great his or her personal skills and ability may be, must never forget that he cannot get too far ahead of the pack lest he turn around one day and discover that no one is following him.
An artist, however, is a leader in a different sense – a leader of thought and ideas - and, as a result, is not only not constrained by the appreciations and capabilities of the crowd, he or she is virtually obligated to get out there ahead of the pack and set the pace and the curve. The best artists work first and foremost for themselves and – if they're very lucky in their own lifetimes – a few people will share and understand their ideas and their work. But they have the privilege of shooting for the stars and the luxury of never having to look over their shoulders to make sure that the rest of the folks are keeping up or at least tagging along. Talent and genius are their own rewards and punishments.
So, it is in this sense as well - in recognizing the vast differences between our daily lives and obligations and those of the artists whose work we so strongly value and connect with - that we have come to understand and appreciate how vital and important the continuing support and commitment to the arts and, more concretely and specifically, to working artists is for all of us and for our own lives and continued psychic well-being.
We are pleased and honored to have been afforded this opportunity to share our Collection and our passions with all of you. We hope that you can find your own excitement as you walk among the many diverse and challenging works that are presented here and that the Collection will move you as it has moved and inspired us throughout the several decades that we have happily spent assembling and sharing it.
WORKS IN THE EXHIBITION
John Alexander
American, born 1945
SNAKE OIL SALESMAN
1987 – 1988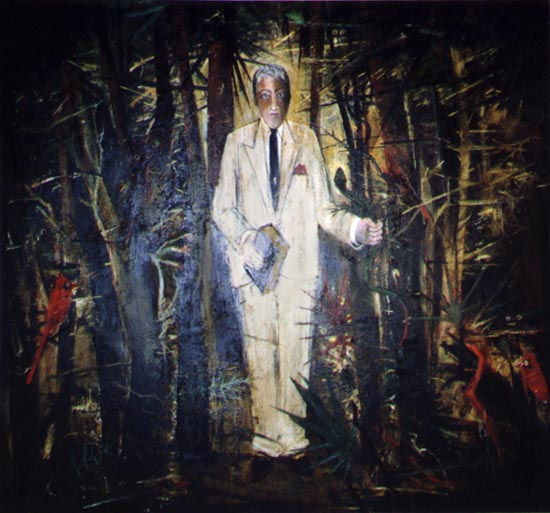 Steven Assael
American, born 1957
ROBERT AND NAOMI
1993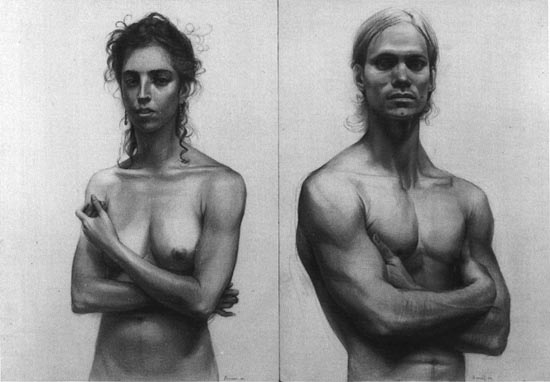 Robert Myrrden Barnes
American, born 1934
YOUNG ARTIST CARRYING BAGGAGE
1985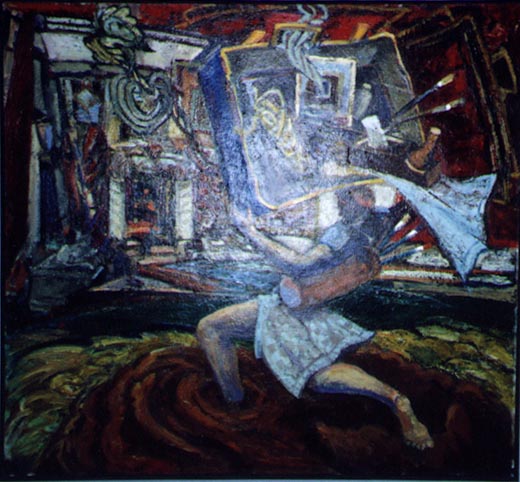 Larissa Bates
American, born 1981
UNTITLED #6 (MYTHOLOGIES OF BOYHOOD)
2005
Tamie Beldue
American, born 1973
VERACITY
2005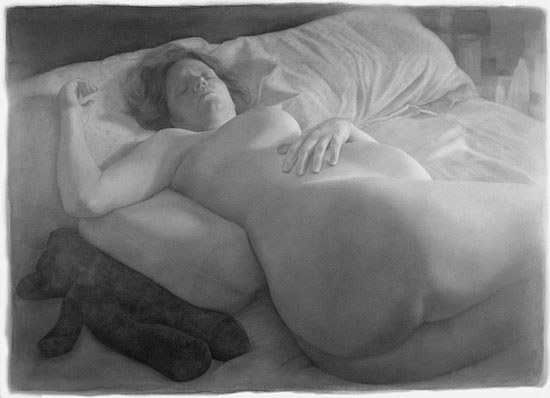 Kent Bellows
American, 1949 - 2005
STUDY FOR AT THE CLUB
1986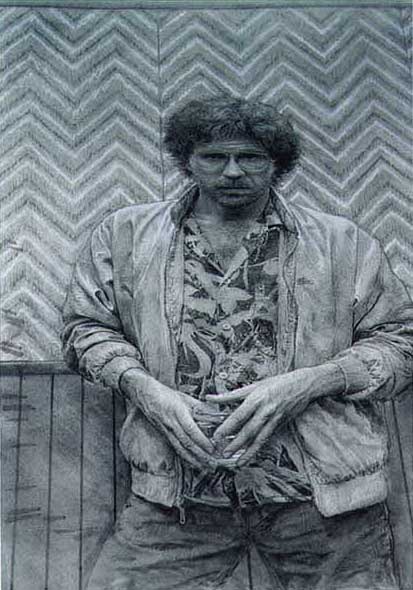 Sarah Bereza
American, born 1979
ALTARPIECE
2006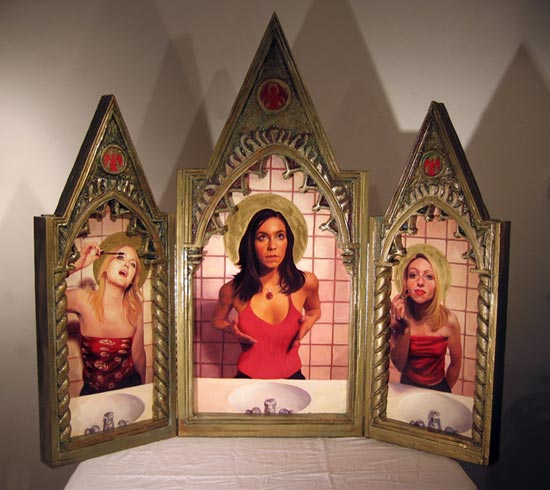 Pamela Berkeley
American, contemporary
THIS SIDE OF PARADISE
1986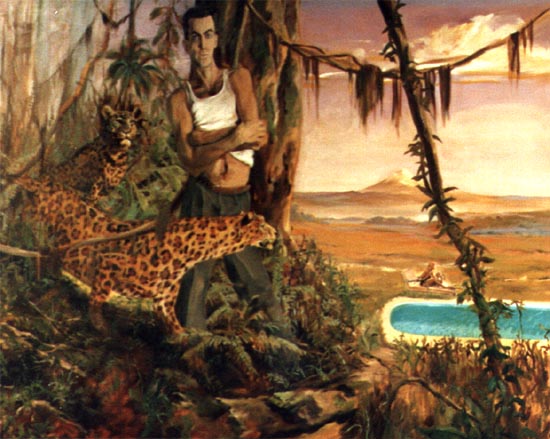 Allison Blickle
American, born 1976
ENJOYING THE CAVIAR OF POTENTIAL POWER
2006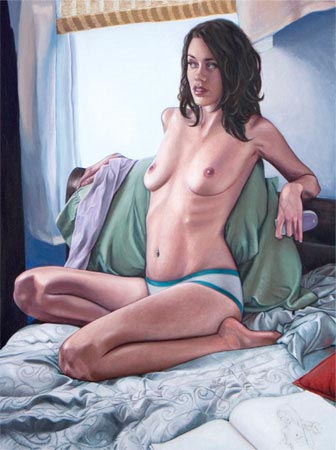 Mary Borgman
American, born 1959
PORTRAIT OF JODY CARTER
2002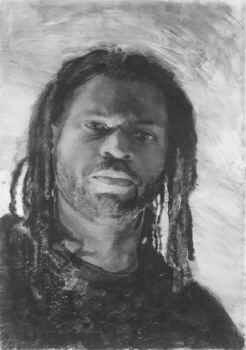 Douglas Bourgeois
American, born 1951
SAINT THERESE AND THE SAILOR
1988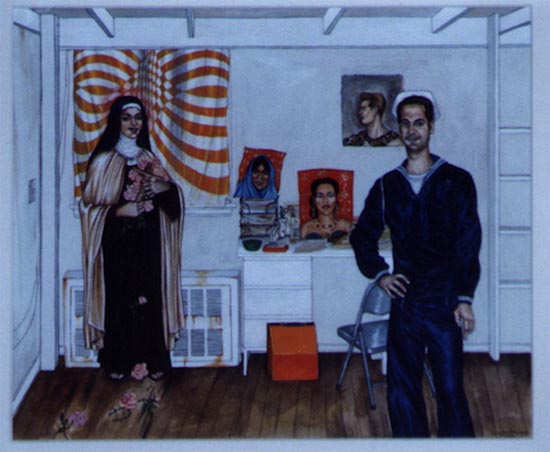 Peter Bradtke
German, born 1947
#134
1988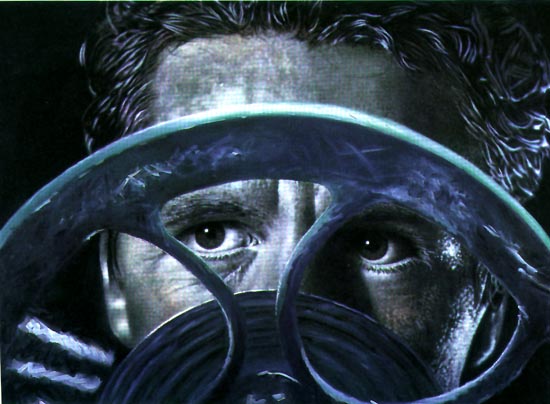 Rob Clayton
American, born 1963
WELCOME HOME
1998
Mixed media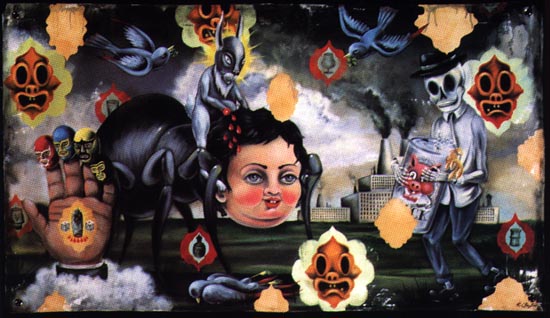 Tim Crowder
American, born 1956
WOLFMAN IN LOVE
2004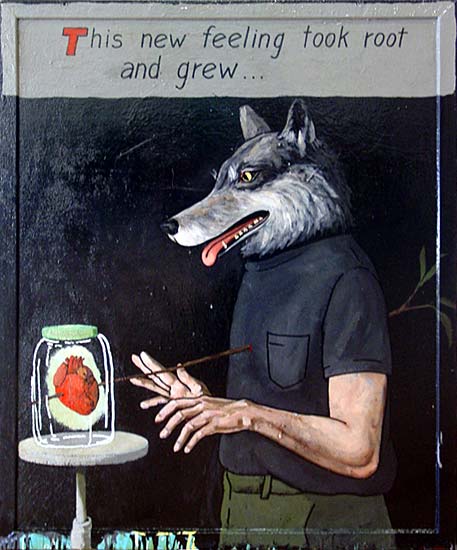 Peter Drake
American, born 1957
OUT OF PLACE
2004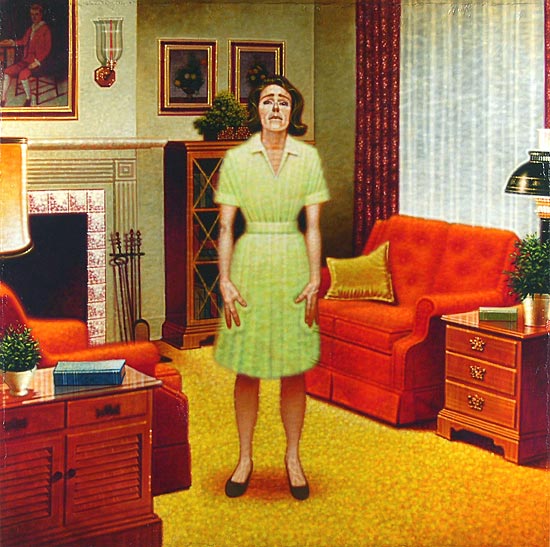 Umarid "Tony" Eitharong
American, born Thailand, 1952
SELF-PORTRAIT
n.d.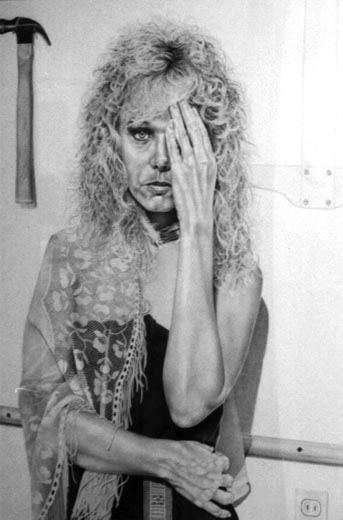 Rob Evans
American, born 1959
PIÑATA
2004
Michèle Fenniak
American, contemporary
WOMEN IN GLOVES
1998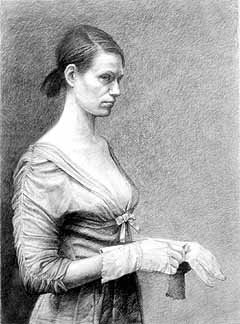 Mark Greenwold
American, born 1942
THE WEIGHT OF THE WORLD
1990
David Gremard Romero
American, born 1976
PORTRAIT OF TODD AS A SUPERHERO - A
PORTRAIT OF MARIAH AS A SUPERHERO - B
Both: 2005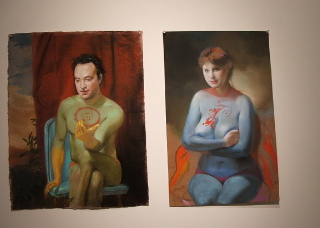 Dan Griggs
American, born 1948
DREAMSCAPE WITH RED POPPY
2005
Dan S. Gustin
American, contemporary
UNTITLED
n.d.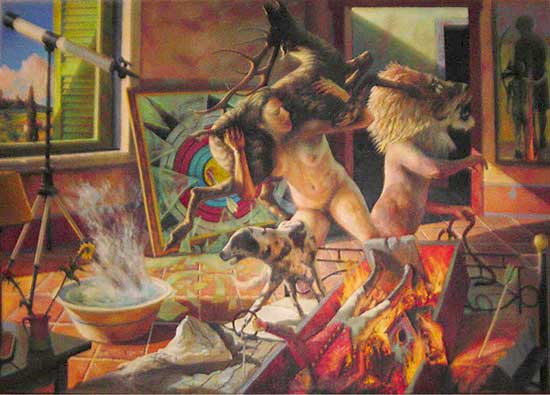 Stefan Hale
American, contemporary
UNTITLED
1985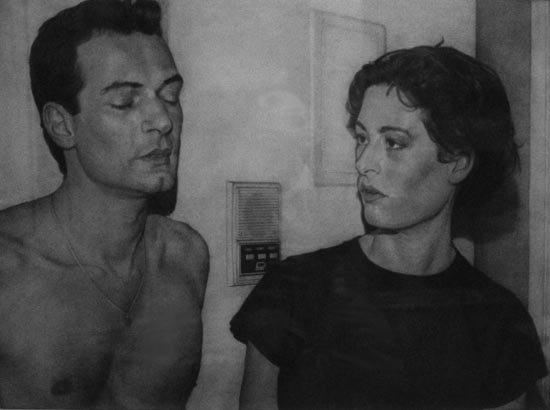 William L. Haney
American, 1939 - 1992
IN OVER OUR HEADS
1984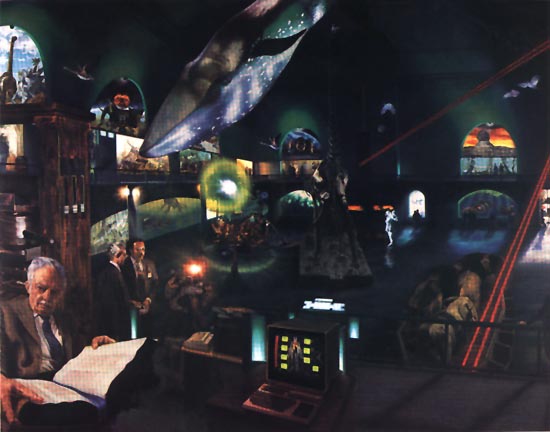 Karin Helmich
American, born 1943
DOLL #6 (THE BARBIE PARTY)
2002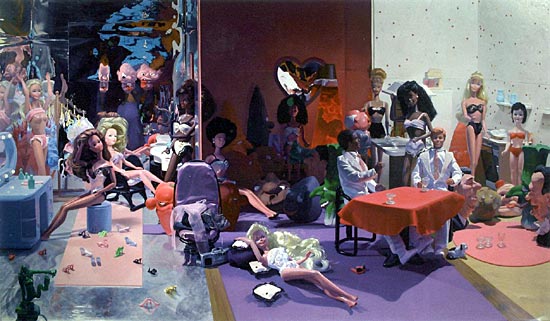 F. Scott Hess
American, born 1955
TRACKS IN THE JUNGLE
n.d.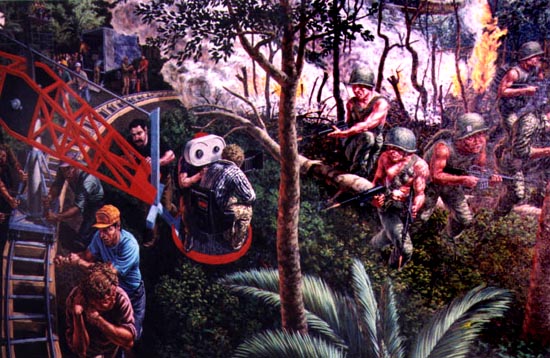 Margarida Kendall Hull
American, born Portugal
THE HARVEST
1998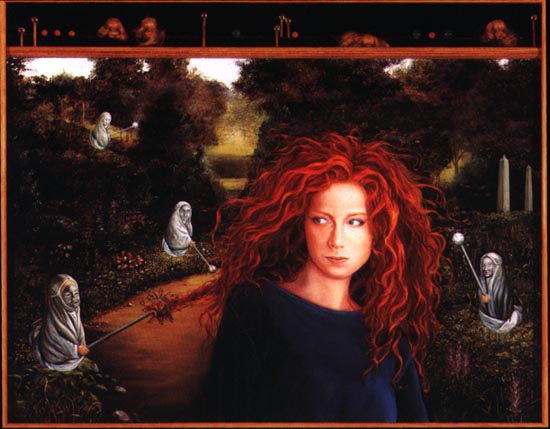 Edgar Jerins
American, born 1958
TOMMY TELLS A STORY
2001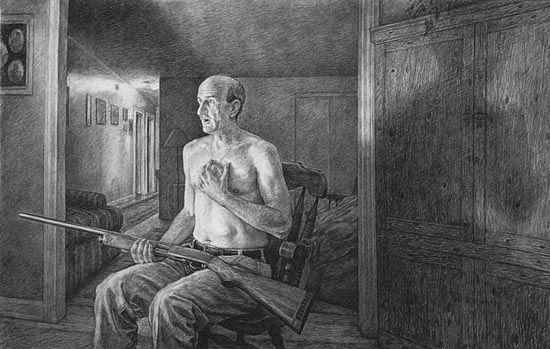 Barbara Kacicek
American, born 1957
PORTRAIT OF BRIAN
1995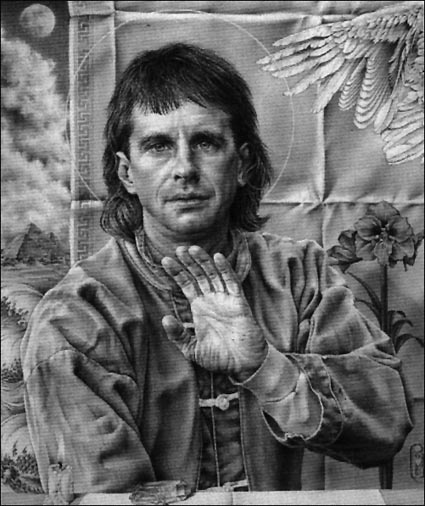 David Jon Kassan
American, born 1977
STARE IN PIEDI NELL'OSSERVAZIONE SILENZIOSA
2004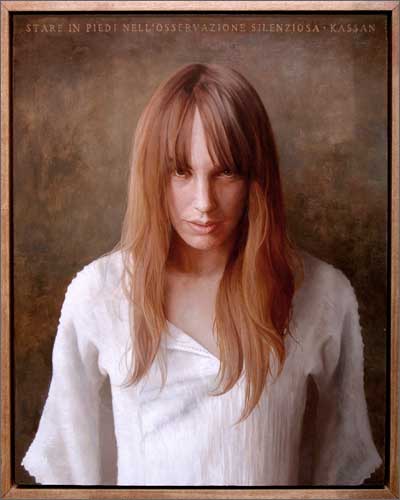 Steven Kenny
American, born 1962
SELF-PORTRAIT AS ROOSTER WARRIOR
2004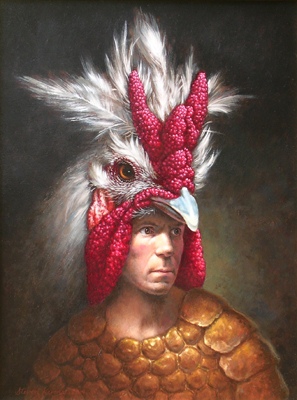 Leonard Koscianski
American, born 1952
CLASH
1988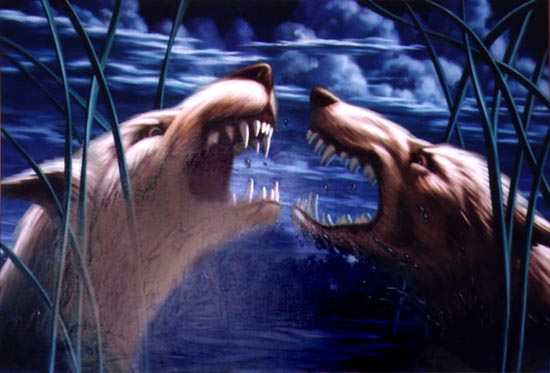 Norbert H. Kox
American, born 1945
THE LAST DAYS
1990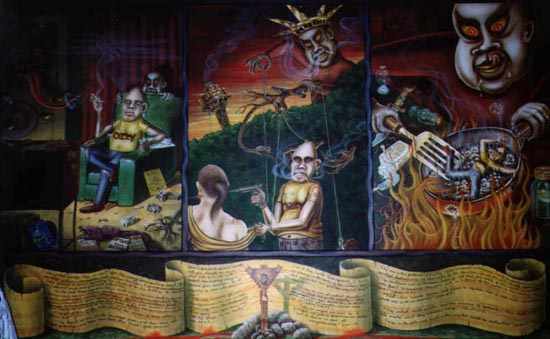 Norbert Kox
American, born 1945
TAOMAN LOST FOOTING
1994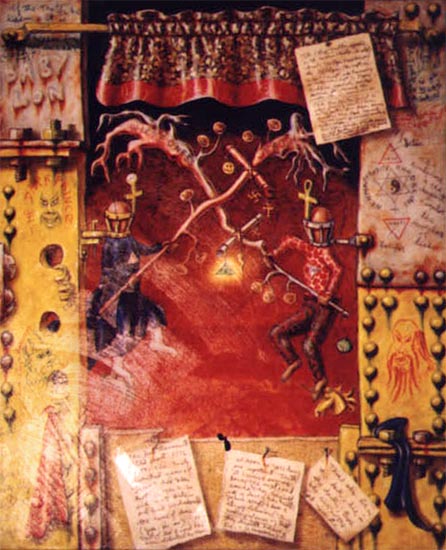 Adela Leibowitz
American, contemporary
MAY APPLE
2006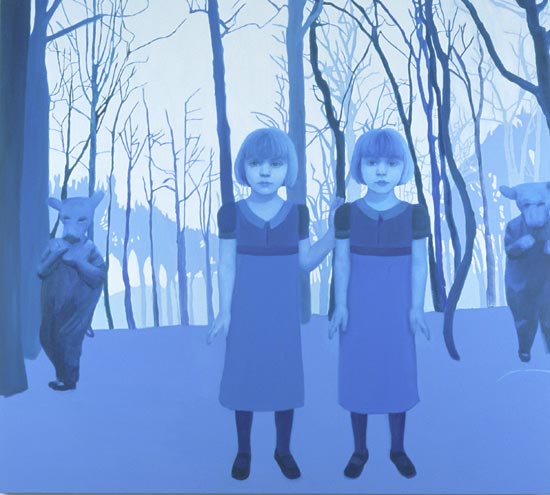 Riva Lehrer
American, born 1958
TOM O'DOWD AND BUDDY
2002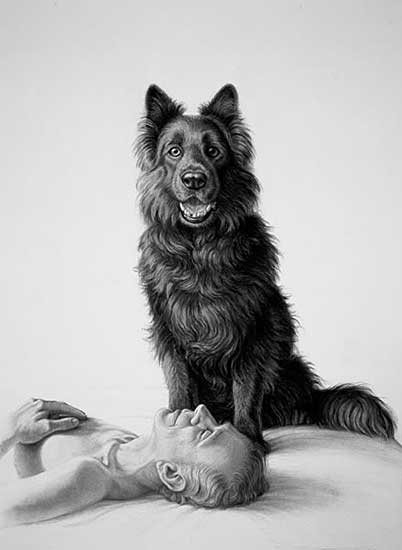 Alan Loehle
American, born 1954
EMBRACE
1989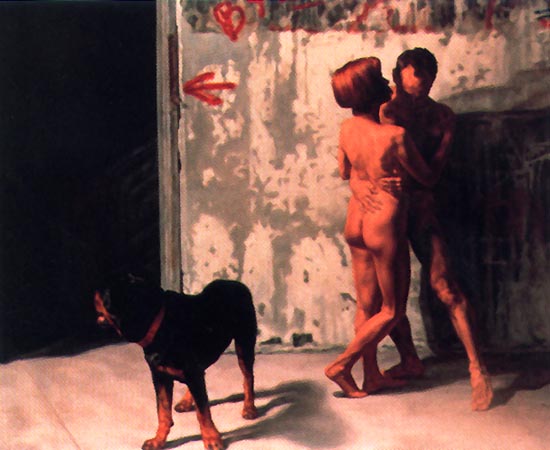 Tim Lowly
American, born 1958
TYGER TYGER (JANE SIBERRY)
1992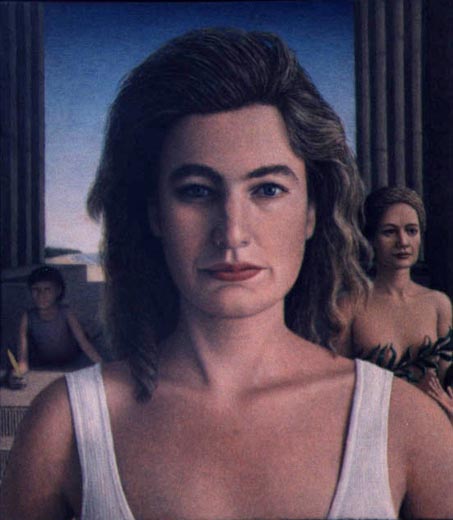 Wes Magyar
American, born 1976
STUDY OF LUCAS
2005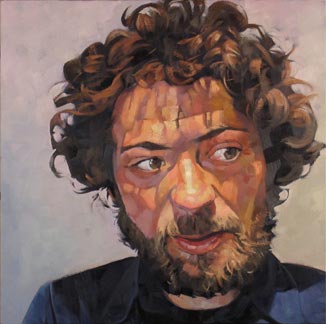 Diane Marsh
American, contemporary
ANGUISH
1983
Dennis Nechvatal
American, born 1946
SIAMESE
1984 - 1988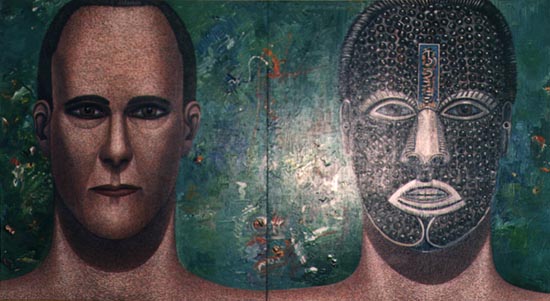 Jennifer Nehrbass
American, born 1970
THE GOLDEN MEAN
2005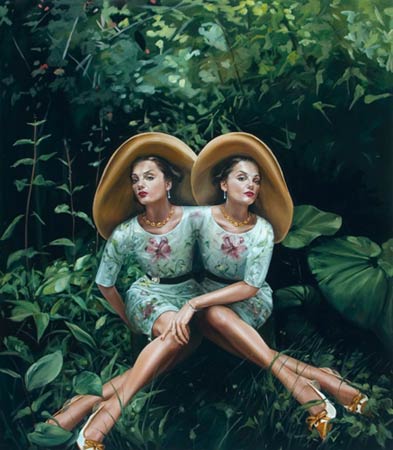 Jennifer Presant
American, born 1971
PROJECTION MEMORY DESIRE
2002
Andrew Raftery
American, born 1962
COSMETICS COUNTER
1997
Terry Rodgers
American, born 1947
THE VORTEX
2003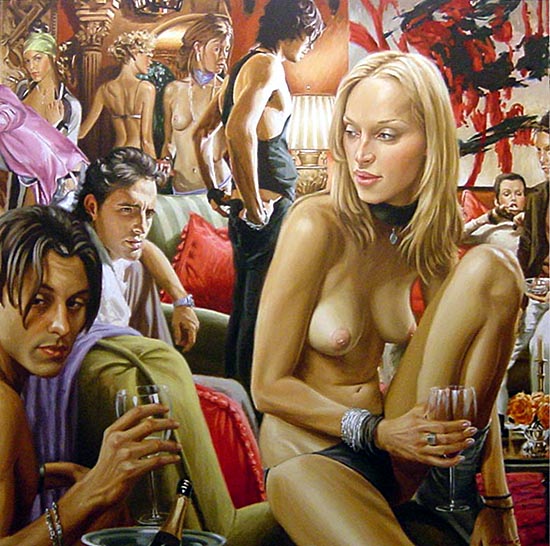 Nola Romano
American, contemporary
THE COMPETITION PART 2 TO THE FINISH
2004
Chris Scarborough
American, born 1976
THE DEVIL WAS GREAT, I SWALLOWED BURNING CIGARETTES AND ATE ASHES
2004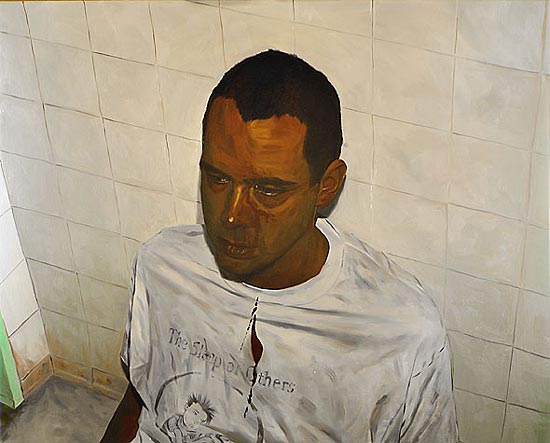 Paul Sierra
American, born Cuba 1944
UNTITLED
1993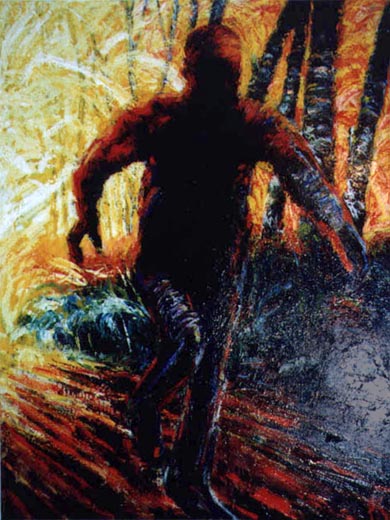 Fred Stonehouse
American, born 1960
KILROY-COQ-A-L'ANE
1999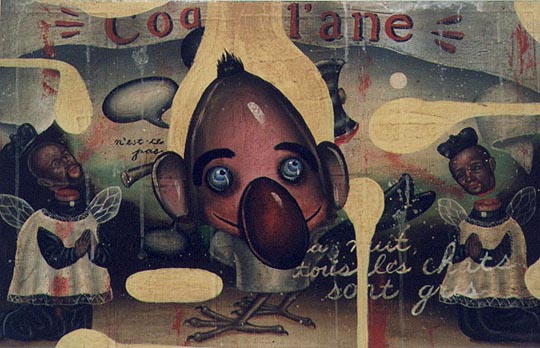 Bruno Surdo
American, born 1963
SO WHAT DO YOU THINK
2000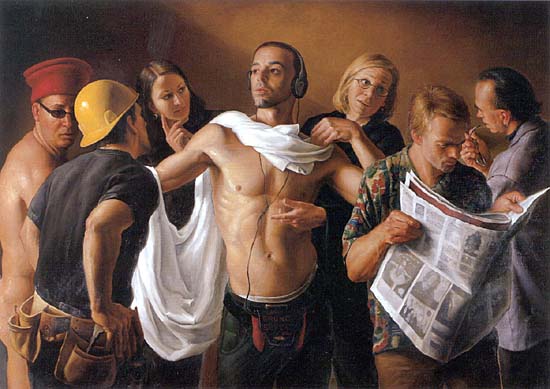 Maria Tomasula
American, born 1958
RHYTHM
1990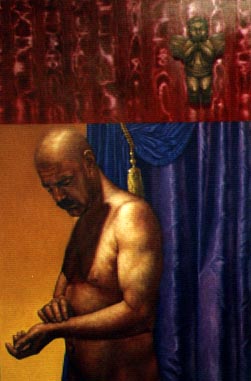 Tom Uttech
American, born 1942
SABASKONG BAY
1986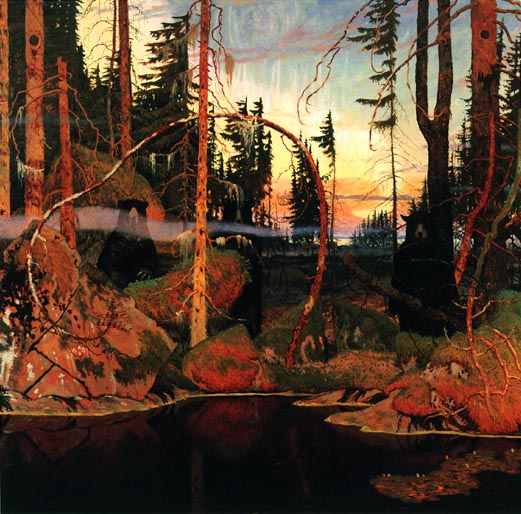 Dana Van Horn
American, born 1950
SELF-PORTRAIT AS PAINTER
1986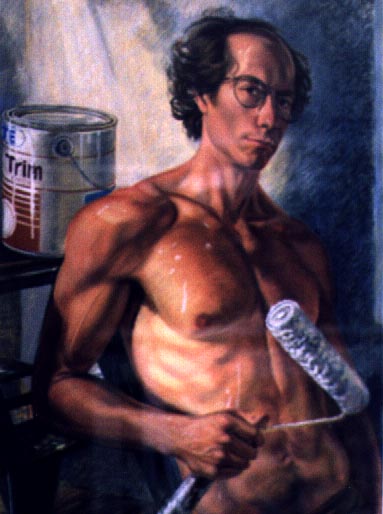 Bill Vuksanovich
American, born Yugoslavia, 1938
BUSINESS CLOWN
1985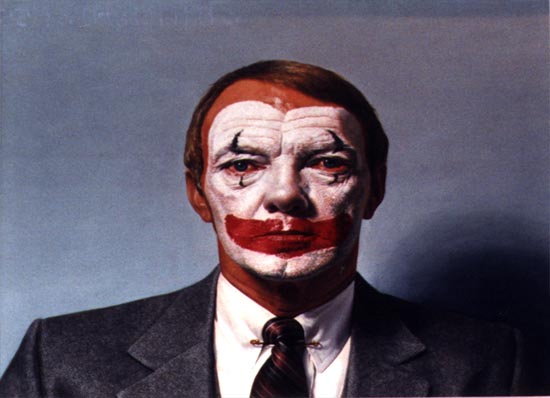 Bill Vuksanovich
American, born Yugoslavia, 1938
UNTITLED
1985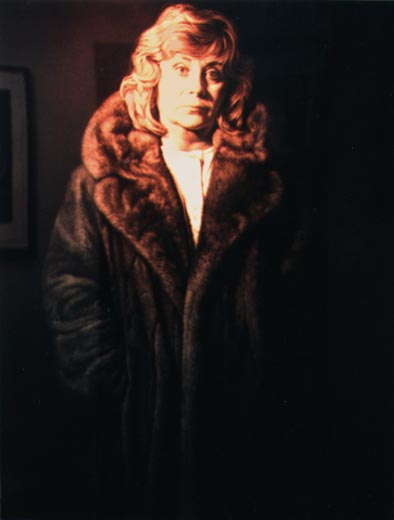 Caleb Weintraub
American, born 1977
PARTY FAVORS
2005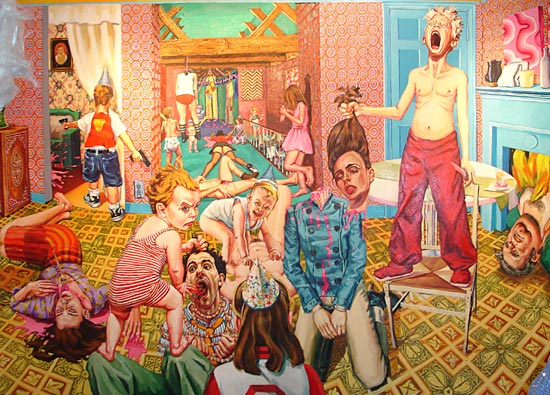 Barnaby Whitfield
American, born 1970
TIPPERARY
2005
Kent Wing
American, born 1954
THE WATCHER
2004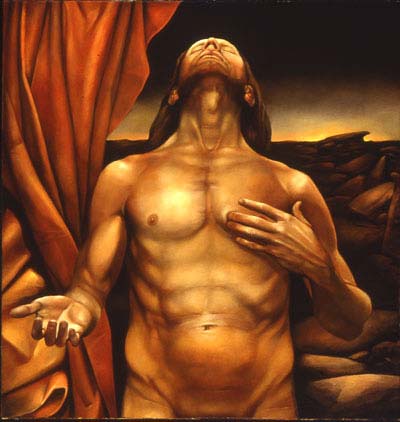 Thomas Woodruff
American, born 1957
HYACINTH ARSONIST
1999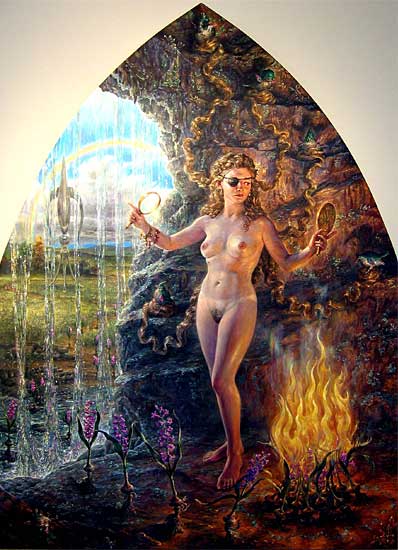 Mary Lou Zelazny
American, born 1956
IGNIS FATUNS
1996